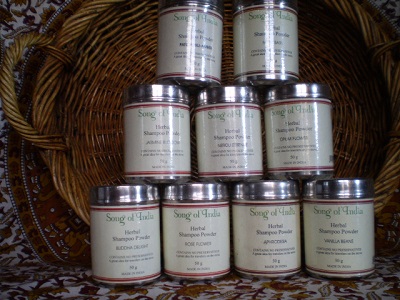 Song of India Powdered Shampoo
50g can, $9 each
These shampoos come with a teaspoon scoop. Use 1/4 to 1/2 a teaspoon (depending on the length of the hair),
mix with a little water in your hand and use like shampoo.
These shampoos are incredibly popular.
Feedback from customers include:
"a can goes a very long way"
"leaves hair soft & shiney"
"does not irritate or sting the scalp"
"does not cause dry, itchy scalp like others"
"gentle & soothing for those with dermatitis & psoriasis"
Available in a variety of flavours
Aphrodesia
Buddha Delight
Jasmine
Krishna Musk
Neem-Basil
Neroli
Opium
Patchouli-Amber
Rose
Sandalwood
Vanilla Beans